OX3LX in GP60XR small EME 2m DXp. 2008 10/7-22/7
Hi I plan to be QRV EME JT65b from GP60XR with the CALL OX3LX
QRG 144.177 +/- OX3LX will always be in 1st periode JT65B and listen 2Khz up for rnd
RIG FT847 PA 400W ant 17ELM 5WL M2, during shipping problem PA will not arrive before 14/7 so I take a 170W PA with me in my suitcase.... the first days I will have 170W only!!
QTH is not the best some mountains N + SW and E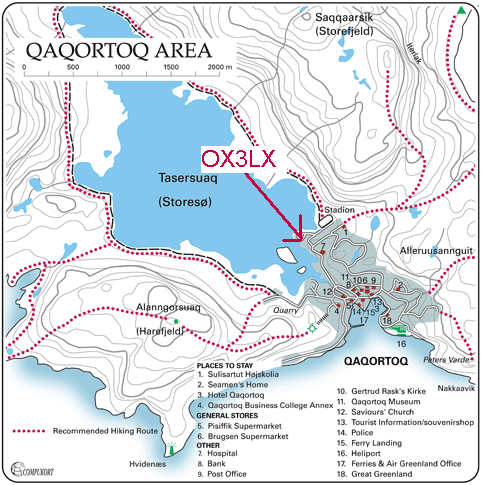 4m: FT847 25-50W and a dipole
6m :FT847 100W and a 4elm
Here the results of my DXp/bussines trip to OX
6m: around 40 QSO and 2 new 1st OX qso's who was HI3 and PJ2, hrd only weak EU videos from Norway 2 times very weak, all my QSO was to NA and Caribbean. In the period I was in Greenland prop. was down and not very good at all.
4m: No QSO's but did try to work VE9AA xband during a major opening to him on 6m , but no QSO.
2m: 20 QSO's the log you can see on this page. The first 2 days I was only QRV with 150W , after I got my PA and did have around 450W output, my feed line was very short abt 10m of RG214, the biggest problem was to locate the moon during zero visibility, most of time fog and rain, however when I could see the moon QSO's did go very quick-
Here my 2m EME log
2m
Type of propagation: EME Mode: All mode
From 07/07/2008 to 30/11/2009 Distance over: 0 Km. Page: 1
----------------------------------------------------------------------------------
DATE TIME CALLSIGN LOCATOR TX RX MODE REMARKS QRB
----------------------------------------------------------------------------------
10/07/2008 18:55 PA0JMV JO21PM O O JT65 Qaqortoq 2008 3245
10/07/2008 19:09 RA6AX KN93VN O O JT65 Qaqortoq 2008 5689
10/07/2008 19:36 PA0ZH JO33AA 0 JT65 NOT COMPL. 3184
10/07/2008 19:36 F6HVK JN27LH O JT65 NOT COMPL. 3536
10/07/2008 20:03 RX1AS KO59AS O JT65 NOT COMPL. 3959
11/07/2008 20:26 KB8RQ EM79SU O O JT65 Qaqortoq 2008 3496
11/07/2008 20:50 F6HVK JN27LH O O JT65 Qaqortoq 2008 3536
11/07/2008 20:52 OZ1LPR JO44UW O JT65 NOT COMPL. 3257
18/07/2008 01:50 K9MRI EN70 O O JT65 Qaqortoq 2008 3461+-
18/07/2008 03:52 K6MYC DM07DB O O JT65 Qaqortoq 2008 5619
18/07/2008 04:26 CT1HZE IM57NH O O JT65 Qaqortoq 2008 3668
19/07/2008 02:05 OZ1LPR JO44UW O O JT65 Qaqortoq 2008 3257
19/07/2008 02:16 DK3BU JO33NO O O JT65 Qaqortoq 2008 3204
19/07/2008 02:36 DF2ZC JO30RN O O JT65 Qaqortoq 2008 3430
20/07/2008 02:45 RU1AA KP40XD O O JT65 Qaqortoq 2008 3932
21/07/2008 02:43 ES6RQ KO28WA O O JT65 Qaqortoq 2008 3878
21/07/2008 02:48 RX1AS KO59AS O O JT65 Qaqortoq 2008 3959
21/07/2008 02:59 IK1UWL JN33VT O O JT65 Qaqortoq 2008 3968
22/07/2008 02:36 I2RV JN45PL O O JT65 Qaqortoq 2008 3915
22/07/2008 02:42 YU7AA JN95NS O O JT65 Qaqortoq 2008 4424
22/07/2008 02:48 RK3FG KO86HP O O JT65 Qaqortoq 2008 4477
22/07/2008 02:58 DL7FF JO62TJ O O JT65 Qaqortoq 2008 3632
22/07/2008 03:02 DL8GP JN39LH O O JT65 Qaqortoq 2008 3494
22/07/2008 11:01 W5UN EM23MG O O JT65 Qaqortoq 2008 4630
----------------------------------------------------------------------------------
Number of QSOs listed: 24
Moon view from OX3LX GP60XR
Time Azim. Elev. W. GHA Decl Dist. DGRD SkyT Elong. Perigee
=============== Moon ================== 9. juli 2008 =======================
16:06:47 111.1° + 1.6° - 339.8 - 9.4° 394213 20.4 4800K 85° + 8.2d
16:21:47 114.3° + 3.3° - 343.4 - 9.5° 394268 20.4 4800K 85° + 8.2d
16:36:47 117.5° + 5.0° - 347.1 - 9.5° 394322 20.4 4800K 85° + 8.2d
16:51:47 120.8° + 6.6° - 350.7 - 9.6° 394376 20.4 4800K 85° + 8.2d
17:06:47 124.0° + 8.1° - 354.4 - 9.6° 394430 20.4 4800K 85° + 8.3d
17:21:47 127.4° + 9.6° - 358.1 - 9.7° 394484 20.4 4800K 86° + 8.3d
17:36:47 130.7° +11.0° - 1.7 - 9.8° 394538 20.4 4800K 86° + 8.3d
17:51:47 134.2° +12.4° - 5.4 - 9.8° 394592 20.4 4800K 86° + 8.3d
18:06:47 137.6° +13.7° - 9.1 - 9.9° 394645 20.4 4800K 86° + 8.3d
18:21:47 141.2° +14.9° - 12.7 - 9.9° 394699 20.4 4800K 86° + 8.3d
18:36:47 144.7° +15.9° - 16.4 -10.0° 394752 20.3 4800K 86° + 8.3d
18:51:47 148.4° +16.9° - 20.1 -10.1° 394805 20.3 4800K 86° + 8.3d
19:06:47 152.0° +17.8° - 23.7 -10.1° 394859 20.3 4800K 86° + 8.3d
19:21:47 155.7° +18.6° - 27.4 -10.2° 394912 20.3 4800K 86° + 8.4d
19:36:47 159.5° +19.3° - 31.1 -10.2° 394965 20.3 4800K 86° + 8.4d
19:51:47 163.3° +19.8° - 34.7 -10.3° 395017 20.3 4800K 86° + 8.4d
20:06:47 167.1° +20.3° - 38.4 -10.4° 395070 20.3 4800K 87° + 8.4d
20:21:47 170.9° +20.6° - 42.1 -10.4° 395123 20.3 4800K 87° + 8.4d
20:36:47 174.8° +20.8° - 45.8 -10.5° 395175 20.3 4800K 87° + 8.4d
20:51:47 178.7° +20.8° - 49.4 -10.5° 395228 20.3 4800K 87° + 8.4d
21:06:47 182.5° +20.7° - 53.1 -10.6° 395280 20.3 4800K 87° + 8.4d
21:21:47 186.4° +20.5° - 56.8 -10.7° 395332 20.4 4800K 87° + 8.4d
21:36:47 190.2° +20.2° - 60.5 -10.7° 395384 20.4 4800K 87° + 8.4d
21:51:47 194.0° +19.7° - 64.1 -10.8° 395436 20.4 4800K 87° + 8.5d
22:06:47 197.8° +19.2° - 67.8 -10.8° 395488 20.4 4800K 87° + 8.5d
22:21:47 201.5° +18.5° - 71.5 -10.9° 395540 20.4 4800K 87° + 8.5d
22:36:47 205.2° +17.7° - 75.2 -10.9° 395592 20.4 4800K 87° + 8.5d
22:51:47 208.9° +16.7° - 78.8 -11.0° 395643 20.4 4800K 88° + 8.5d
23:06:47 212.5° +15.7° - 82.5 -11.0° 395695 20.4 4800K 88° + 8.5d
23:21:47 216.0° +14.6° - 86.2 -11.1° 395746 20.4 4800K 88° + 8.5d
23:36:47 219.5° +13.4° - 89.8 -11.1° 395797 20.4 4800K 88° + 8.5d
23:51:47 223.0° +12.1° - 93.5 -11.2° 395848 20.4 4800K 88° + 8.5d
=============== Moon ================== 10. juli 2008 =======================
00:06:47 226.3° +10.7° - 97.2 -11.2° 395899 20.4 4800K 88° + 8.6d
00:21:47 229.7° + 9.2° - 100.8 -11.3° 395950 20.4 4800K 88° + 8.6d
00:36:47 233.0° + 7.7° - 104.5 -11.3° 396001 20.4 4800K 88° + 8.6d
00:51:47 236.2° + 6.1° - 108.1 -11.4° 396052 20.5 4800K 88° + 8.6d
01:06:47 239.4° + 4.4° - 111.8 -11.4° 396102 20.5 4800K 88° + 8.6d
01:21:47 242.5° + 2.7° - 115.5 -11.5° 396153 20.5 4800K 89° + 8.6d
01:36:47 245.7° + 1.0° - 119.1 -11.5° 396203 20.5 4800K 89° + 8.6d
17:21:47 120.5° + 0.5° - 347.7 -14.9° 399127 21.1 5400K 97° + 9.3d
17:36:47 123.7° + 2.0° - 351.3 -15.0° 399169 21.1 5400K 97° + 9.3d
17:51:47 126.9° + 3.5° - 355.0 -15.0° 399212 21.1 5400K 97° + 9.3d
18:06:47 130.2° + 5.0° - 358.7 -15.1° 399254 21.1 5400K 97° + 9.3d
18:21:47 133.4° + 6.3° - 2.3 -15.1° 399296 21.1 5400K 97° + 9.3d
18:36:47 136.7° + 7.6° - 6.0 -15.2° 399337 21.1 5400K 97° + 9.3d
18:51:47 140.1° + 8.8° - 9.6 -15.3° 399379 21.1 5400K 97° + 9.3d
19:06:47 143.5° +10.0° - 13.3 -15.3° 399421 21.1 5400K 98° + 9.3d
19:21:47 146.9° +11.0° - 17.0 -15.4° 399462 21.1 5400K 98° + 9.4d
19:36:47 150.4° +11.9° - 20.6 -15.4° 399503 21.1 5400K 98° + 9.4d
19:51:47 153.9° +12.8° - 24.3 -15.5° 399544 21.1 5400K 98° + 9.4d
20:06:47 157.5° +13.5° - 28.0 -15.5° 399585 21.1 5500K 98° + 9.4d
20:21:47 161.1° +14.1° - 31.6 -15.6° 399626 21.1 5500K 98° + 9.4d
20:36:47 164.7° +14.6° - 35.3 -15.6° 399667 21.1 5500K 98° + 9.4d
20:51:47 168.3° +15.0° - 39.0 -15.7° 399707 21.1 5500K 98° + 9.4d
21:06:47 172.0° +15.3° - 42.7 -15.7° 399748 21.1 5500K 98° + 9.4d
21:21:47 175.6° +15.5° - 46.3 -15.8° 399788 21.1 5500K 98° + 9.4d
21:36:47 179.3° +15.5° - 50.0 -15.8° 399828 21.1 5500K 98° + 9.4d
21:51:47 183.0° +15.4° - 53.7 -15.9° 399868 21.1 5500K 99° + 9.5d
22:06:47 186.6° +15.2° - 57.4 -15.9° 399908 21.1 5500K 99° + 9.5d
22:21:47 190.3° +14.9° - 61.0 -16.0° 399948 21.2 5500K 99° + 9.5d
22:36:47 193.9° +14.4° - 64.7 -16.0° 399988 21.2 5500K 99° + 9.5d
22:51:47 197.5° +13.9° - 68.4 -16.1° 400027 21.2 5500K 99° + 9.5d
23:06:47 201.0° +13.2° - 72.0 -16.1° 400067 21.2 5500K 99° + 9.5d
23:21:47 204.6° +12.4° - 75.7 -16.2° 400106 21.2 5500K 99° + 9.5d
23:36:47 208.0° +11.5° - 79.4 -16.2° 400145 21.2 5500K 99° + 9.5d
23:51:47 211.5° +10.5° - 83.0 -16.3° 400184 21.2 5500K 99° + 9.5d
=============== Moon ================== 11. juli 2008 =======================
00:06:47 214.9° + 9.4° - 86.7 -16.3° 400223 21.2 5500K 99° + 9.6d
00:21:47 218.2° + 8.3° - 90.4 -16.4° 400261 21.2 5500K 99° + 9.6d
00:36:47 221.5° + 7.0° - 94.0 -16.4° 400300 21.2 5500K 99° + 9.6d
00:51:47 224.8° + 5.7° - 97.7 -16.5° 400338 21.2 5500K 100° + 9.6d
01:06:47 228.0° + 4.2° - 101.4 -16.5° 400376 21.2 5500K 100° + 9.6d
01:21:47 231.2° + 2.7° - 105.0 -16.5° 400415 21.2 5500K 100° + 9.6d
01:36:47 234.4° + 1.2° - 108.7 -16.6° 400453 21.2 5500K 100° + 9.6d
18:51:47 132.3° + 0.8° - 359.0 -19.8° 402731 21.6 5800K 108° +10.3d
19:06:47 135.5° + 2.1° - 2.6 -19.8° 402759 21.6 5800K 109° +10.3d
19:21:47 138.7° + 3.4° - 6.3 -19.9° 402786 21.6 5800K 109° +10.4d
19:36:47 142.0° + 4.5° - 9.9 -19.9° 402814 21.5 5800K 109° +10.4d
19:51:47 145.3° + 5.6° - 13.6 -20.0° 402842 21.5 5800K 109° +10.4d
20:06:47 148.6° + 6.6° - 17.3 -20.0° 402869 21.5 5800K 109° +10.4d
20:21:47 151.9° + 7.5° - 20.9 -20.1° 402896 21.5 5800K 109° +10.4d
20:36:47 155.3° + 8.3° - 24.6 -20.1° 402923 21.5 5800K 109° +10.4d
20:51:47 158.7° + 9.0° - 28.2 -20.2° 402950 21.5 5800K 109° +10.4d
21:06:47 162.1° + 9.6° - 31.9 -20.2° 402977 21.5 5800K 109° +10.4d
21:21:47 165.6° +10.1° - 35.6 -20.3° 403004 21.5 5800K 109° +10.4d
21:36:47 169.1° +10.5° - 39.3 -20.3° 403030 21.5 5800K 109° +10.4d
21:51:47 172.6° +10.7° - 42.9 -20.4° 403057 21.5 5800K 110° +10.5d
22:06:47 176.1° +10.9° - 46.6 -20.4° 403083 21.5 5800K 110° +10.5d
22:21:47 179.6° +10.9° - 50.3 -20.4° 403109 21.5 5800K 110° +10.5d
22:36:47 183.1° +10.8° - 53.9 -20.5° 403135 21.5 5800K 110° +10.5d
22:51:47 186.6° +10.6° - 57.6 -20.5° 403161 21.5 5800K 110° +10.5d
23:06:47 190.0° +10.3° - 61.3 -20.6° 403187 21.5 5800K 110° +10.5d
23:21:47 193.5° + 9.9° - 64.9 -20.6° 403212 21.5 5800K 110° +10.5d
23:36:47 196.9° + 9.3° - 68.6 -20.6° 403238 21.5 5800K 110° +10.5d
23:51:47 200.3° + 8.7° - 72.3 -20.7° 403263 21.5 5800K 110° +10.5d
=============== Moon ================== 12. juli 2008 =======================
00:06:47 203.7° + 7.9° - 75.9 -20.7° 403288 21.6 5800K 110° +10.6d
00:21:47 207.1° + 7.1° - 79.6 -20.8° 403313 21.6 5800K 110° +10.6d
00:36:47 210.4° + 6.1° - 83.3 -20.8° 403338 21.6 5800K 111° +10.6d
00:51:47 213.7° + 5.1° - 86.9 -20.8° 403362 21.6 5800K 111° +10.6d
01:06:47 216.9° + 4.0° - 90.6 -20.9° 403387 21.6 5800K 111° +10.6d
01:21:47 220.1° + 2.7° - 94.2 -20.9° 403411 21.6 5800K 111° +10.6d
01:36:47 223.3° + 1.4° - 97.9 -20.9° 403435 21.6 5800K 111° +10.6d
01:51:47 226.4° + 0.1° - 101.6 -21.0° 403459 21.6 5800K 111° +10.6d
20:21:47 143.1° + 0.9° - 9.7 -23.7° 404845 21.9 6200K 120° +11.4d
20:36:47 146.3° + 2.0° - 13.4 -23.8° 404858 21.9 6200K 120° +11.4d
20:51:47 149.5° + 2.9° - 17.1 -23.8° 404872 21.9 6200K 120° +11.4d
21:06:47 152.7° + 3.8° - 20.7 -23.9° 404885 21.9 6200K 120° +11.4d
21:21:47 156.0° + 4.6° - 24.4 -23.9° 404898 21.9 6200K 120° +11.4d
21:36:47 159.3° + 5.3° - 28.0 -23.9° 404911 21.9 6200K 120° +11.4d
21:51:47 162.6° + 5.9° - 31.7 -24.0° 404924 21.9 6200K 120° +11.5d
22:06:47 165.9° + 6.4° - 35.4 -24.0° 404936 21.9 6200K 121° +11.5d
22:21:47 169.3° + 6.7° - 39.0 -24.0° 404949 21.9 6200K 121° +11.5d
22:36:47 172.6° + 7.0° - 42.7 -24.1° 404961 21.9 6200K 121° +11.5d
22:51:47 176.0° + 7.2° - 46.3 -24.1° 404973 21.9 6200K 121° +11.5d
23:06:47 179.4° + 7.2° - 50.0 -24.2° 404985 21.9 6200K 121° +11.5d
23:21:47 182.7° + 7.1° - 53.7 -24.2° 404997 21.9 6200K 121° +11.5d
23:36:47 186.1° + 7.0° - 57.3 -24.2° 405009 21.9 6200K 121° +11.5d
23:51:47 189.4° + 6.7° - 61.0 -24.2° 405021 21.9 6200K 121° +11.5d
=============== Moon ================== 13. juli 2008 =======================
00:06:47 192.8° + 6.3° - 64.7 -24.3° 405033 21.9 6200K 121° +11.6d
00:21:47 196.1° + 5.8° - 68.3 -24.3° 405044 21.9 6200K 121° +11.6d
00:36:47 199.4° + 5.2° - 72.0 -24.3° 405055 21.9 6200K 121° +11.6d
00:51:47 202.7° + 4.5° - 75.6 -24.4° 405066 21.9 6200K 121° +11.6d
01:06:47 205.9° + 3.6° - 79.3 -24.4° 405077 21.9 6200K 122° +11.6d
01:21:47 209.1° + 2.7° - 83.0 -24.4° 405088 21.9 6200K 122° +11.6d
01:36:47 212.3° + 1.7° - 86.6 -24.4° 405099 21.9 6200K 122° +11.6d
01:51:47 215.4° + 0.7° - 90.3 -24.5° 405110 21.9 6200K 122° +11.6d
21:36:47 149.6° + 0.1° - 16.3 -26.6° 405542 23.9 9900K 131° +12.4d
21:51:47 152.8° + 1.0° - 19.9 -26.6° 405543 23.9 9900K 131° +12.5d
22:06:47 155.9° + 1.8° - 23.6 -26.6° 405543 23.9 9900K 131° +12.5d
22:21:47 159.1° + 2.5° - 27.2 -26.7° 405544 23.9 9900K 131° +12.5d
22:36:47 162.4° + 3.1° - 30.9 -26.7° 405544 23.9 9900K 132° +12.5d
22:51:47 165.6° + 3.6° - 34.6 -26.7° 405544 23.9 9900K 132° +12.5d
23:06:47 168.8° + 4.0° - 38.2 -26.7° 405544 23.9 9900K 132° +12.5d
23:21:47 172.1° + 4.3° - 41.9 -26.8° 405544 23.9 9900K 132° +12.5d
23:36:47 175.4° + 4.5° - 45.5 -26.8° 405544 23.9 9900K 132° +12.5d
23:51:47 178.6° + 4.5° - 49.2 -26.8° 405544 23.9 9900K 132° +12.5d
=============== Moon ================== 14. juli 2008 =======================
00:06:47 181.9° + 4.5° - 52.9 -26.8° 405543 23.9 9900K 132° +12.6d
00:21:47 185.2° + 4.4° - 56.5 -26.9° 405543 23.9 9900K 132° +12.6d
00:36:47 188.5° + 4.1° - 60.2 -26.9° 405542 23.9 9900K 132° +12.6d
00:51:47 191.7° + 3.8° - 63.8 -26.9° 405541 23.9 9900K 132° +12.6d
01:06:47 194.9° + 3.3° - 67.5 -26.9° 405540 23.9 9900K 132° +12.6d
01:21:47 198.2° + 2.8° - 71.1 -26.9° 405539 23.9 9900K 132° +12.6d
01:36:47 201.4° + 2.1° - 74.8 -26.9° 405538 23.9 9900K 133° +12.6d
01:51:47 204.5° + 1.3° - 78.5 -27.0° 405537 23.9 9900K 133° +12.6d
02:06:47 207.7° + 0.5° - 82.1 -27.0° 405535 23.9 9900K 133° +12.6d
22:51:47 155.2° + 0.0° - 22.3 -28.2° 405060 23.9 9900K 143° +13.5d
23:06:47 158.3° + 0.7° - 26.0 -28.2° 405051 23.9 9900K 143° +13.5d
23:21:47 161.5° + 1.4° - 29.6 -28.2° 405041 23.9 9900K 143° +13.5d
23:36:47 164.7° + 1.9° - 33.3 -28.2° 405031 23.9 9900K 143° +13.5d
23:51:47 167.9° + 2.4° - 36.9 -28.2° 405021 23.9 9900K 143° +13.5d
=============== Moon ================== 15. juli 2008 =======================
00:06:47 171.1° + 2.7° - 40.6 -28.2° 405011 23.9 9900K 143° +13.6d
00:21:47 174.3° + 2.9° - 44.2 -28.3° 405001 23.9 9900K 143° +13.6d
00:36:47 177.5° + 3.1° - 47.9 -28.3° 404990 23.9 9900K 143° +13.6d
00:51:47 180.7° + 3.1° - 51.5 -28.3° 404980 23.9 9900K 143° +13.6d
01:06:47 183.9° + 3.0° - 55.2 -28.3° 404969 23.9 9900K 143° +13.6d
01:21:47 187.2° + 2.8° - 58.8 -28.3° 404959 23.9 9900K 143° +13.6d
01:36:47 190.4° + 2.5° - 62.5 -28.3° 404948 23.9 9900K 143° +13.6d
01:51:47 193.6° + 2.1° - 66.1 -28.3° 404937 26.9 20000K 144° +13.6d
02:06:47 196.7° + 1.6° - 69.8 -28.3° 404927 26.9 20000K 144° +13.6d
02:21:47 199.9° + 1.0° - 73.5 -28.3° 404916 26.9 20000K 144° +13.6d
02:36:47 203.0° + 0.3° - 77.1 -28.3° 404905 26.9 20000K 144° +13.7d
23:51:47 157.0° + 0.2° - 24.3 -28.4° 403689 26.9 20000K 154° +14.5d
=============== Moon ================== 16. juli 2008 =======================
00:06:47 160.1° + 0.9° - 28.0 -28.4° 403672 26.9 20000K 154° +14.5d
00:21:47 163.3° + 1.5° - 31.6 -28.4° 403654 26.9 20000K 154° +14.6d
00:36:47 166.5° + 2.0° - 35.3 -28.4° 403637 26.9 20000K 154° +14.6d
00:51:47 169.7° + 2.4° - 39.0 -28.4° 403619 26.9 20000K 154° +14.6d
01:06:47 172.9° + 2.7° - 42.6 -28.4° 403602 26.9 20000K 154° +14.6d
01:21:47 176.1° + 2.9° - 46.3 -28.4° 403584 26.9 20000K 154° +14.6d
01:36:47 179.3° + 3.0° - 49.9 -28.4° 403566 26.9 20000K 154° +14.6d
01:51:47 182.5° + 2.9° - 53.6 -28.4° 403549 26.9 20000K 154° +14.6d
02:06:47 185.7° + 2.8° - 57.2 -28.4° 403531 26.9 20000K 155° +14.6d
02:21:47 188.9° + 2.6° - 60.9 -28.4° 403513 26.9 20000K 155° +14.6d
02:36:47 192.1° + 2.2° - 64.5 -28.4° 403495 26.9 20000K 155° +14.7d
02:51:47 195.3° + 1.8° - 68.2 -28.3° 403477 26.9 20000K 155° +14.7d
03:06:47 198.5° + 1.3° - 71.8 -28.3° 403459 26.9 20000K 155° +14.7d
03:21:47 201.6° + 0.6° - 75.5 -28.3° 403441 26.9 20000K 155° +14.7d
=============== Moon ================== 17. juli 2008 =======================
00:21:47 152.2° + 0.2° - 19.1 -27.2° 401727 27.9 26000K 165° +15.6d
00:36:47 155.3° + 1.0° - 22.7 -27.2° 401705 27.9 26000K 165° +15.6d
00:51:47 158.5° + 1.8° - 26.4 -27.2° 401682 27.9 26000K 165° +15.6d
01:06:47 161.7° + 2.4° - 30.0 -27.2° 401660 27.9 26000K 165° +15.6d
01:21:47 164.9° + 3.0° - 33.7 -27.2° 401637 27.9 26000K 165° +15.6d
01:36:47 168.1° + 3.5° - 37.3 -27.2° 401615 27.9 26000K 165° +15.6d
01:51:47 171.3° + 3.8° - 41.0 -27.2° 401592 27.9 26000K 165° +15.6d
02:06:47 174.6° + 4.1° - 44.6 -27.1° 401569 27.9 26000K 166° +15.6d
02:21:47 177.9° + 4.2° - 48.3 -27.1° 401546 27.9 26000K 166° +15.6d
02:36:47 181.1° + 4.2° - 52.0 -27.1° 401524 27.9 26000K 166° +15.7d
02:51:47 184.4° + 4.2° - 55.6 -27.1° 401501 27.9 26000K 166° +15.7d
03:06:47 187.6° + 4.0° - 59.3 -27.1° 401478 27.9 26000K 166° +15.7d
03:21:47 190.9° + 3.7° - 62.9 -27.0° 401455 27.9 26000K 166° +15.7d
03:36:47 194.1° + 3.3° - 66.6 -27.0° 401432 27.9 26000K 166° +15.7d
03:51:47 197.3° + 2.8° - 70.2 -27.0° 401409 27.9 26000K 166° +15.7d
04:06:47 200.5° + 2.2° - 73.9 -27.0° 401386 27.9 26000K 166° +15.7d
04:21:47 203.7° + 1.6° - 77.5 -26.9° 401363 27.9 26000K 166° +15.7d
04:36:47 206.9° + 0.8° - 81.2 -26.9° 401340 27.9 26000K 166° +15.7d
=============== Moon ================== 18. juli 2008 =======================
00:36:47 144.1° + 0.1° - 10.4 -24.8° 399366 24.1 11000K 175° +16.6d
00:51:47 147.2° + 1.2° - 14.1 -24.8° 399340 24.1 11000K 175° +16.6d
01:06:47 150.3° + 2.2° - 17.7 -24.7° 399314 24.1 11000K 176° +16.6d
01:21:47 153.5° + 3.1° - 21.4 -24.7° 399288 24.1 11000K 176° +16.6d
01:36:47 156.8° + 4.0° - 25.0 -24.7° 399262 24.1 11000K 176° +16.6d
01:51:47 160.0° + 4.7° - 28.7 -24.7° 399235 24.1 11000K 176° +16.6d
02:06:47 163.3° + 5.3° - 32.3 -24.6° 399209 24.1 11000K 176° +16.6d
02:21:47 166.6° + 5.8° - 36.0 -24.6° 399183 24.1 11000K 176° +16.6d
02:36:47 169.9° + 6.3° - 39.7 -24.6° 399157 24.1 11000K 176° +16.7d
02:51:47 173.2° + 6.6° - 43.3 -24.6° 399130 24.1 11000K 176° +16.7d
03:06:47 176.6° + 6.8° - 47.0 -24.5° 399104 24.1 11000K 176° +16.7d
03:21:47 179.9° + 6.9° - 50.6 -24.5° 399077 24.5 12000K 176° +16.7d
03:36:47 183.3° + 6.8° - 54.3 -24.5° 399051 24.5 12000K 176° +16.7d
03:51:47 186.6° + 6.7° - 58.0 -24.4° 399025 24.5 12000K 176° +16.7d
04:06:47 190.0° + 6.5° - 61.6 -24.4° 398998 24.5 12000K 176° +16.7d
04:21:47 193.3° + 6.1° - 65.3 -24.4° 398971 24.5 12000K 176° +16.7d
04:36:47 196.6° + 5.7° - 68.9 -24.3° 398945 24.5 12000K 176° +16.7d
04:51:47 199.9° + 5.1° - 72.6 -24.3° 398918 24.5 12000K 177° +16.7d
05:06:47 203.2° + 4.4° - 76.2 -24.2° 398892 24.5 12000K 177° +16.8d
05:21:47 206.5° + 3.7° - 79.9 -24.2° 398865 24.5 12000K 177° +16.8d
05:36:47 209.7° + 2.8° - 83.5 -24.2° 398838 24.5 12000K 177° +16.8d
05:51:47 212.9° + 1.9° - 87.2 -24.1° 398812 24.5 12000K 177° +16.8d
06:06:47 216.1° + 0.8° - 90.9 -24.1° 398785 24.5 12000K 177° +16.8d
=============== Moon ================== 19. juli 2008 =======================
00:51:47 135.7° + 0.7° - 2.2 -21.2° 396694 21.8 6500K 171° +17.6d
01:06:47 138.9° + 2.1° - 5.9 -21.2° 396665 21.8 6500K 171° +17.6d
01:21:47 142.0° + 3.3° - 9.5 -21.1° 396636 21.8 6500K 171° +17.6d
01:36:47 145.2° + 4.5° - 13.2 -21.1° 396606 21.8 6500K 171° +17.6d
01:51:47 148.5° + 5.5° - 16.8 -21.1° 396577 21.7 6500K 171° +17.6d
02:06:47 151.8° + 6.5° - 20.5 -21.0° 396548 21.7 6500K 171° +17.6d
02:21:47 155.1° + 7.4° - 24.2 -21.0° 396519 21.7 6500K 171° +17.6d
02:36:47 158.5° + 8.2° - 27.8 -20.9° 396490 21.7 6500K 171° +17.7d
02:51:47 161.9° + 8.9° - 31.5 -20.9° 396461 21.7 6500K 171° +17.7d
03:06:47 165.3° + 9.5° - 35.1 -20.9° 396432 21.7 6500K 171° +17.7d
03:21:47 168.7° + 9.9° - 38.8 -20.8° 396402 21.7 6500K 171° +17.7d
03:36:47 172.2° +10.3° - 42.5 -20.8° 396373 21.7 6500K 171° +17.7d
03:51:47 175.6° +10.5° - 46.1 -20.7° 396344 21.7 6500K 170° +17.7d
04:06:47 179.1° +10.7° - 49.8 -20.7° 396315 21.7 6500K 170° +17.7d
04:21:47 182.6° +10.7° - 53.5 -20.6° 396285 21.7 6500K 170° +17.7d
04:36:47 186.1° +10.6° - 57.1 -20.6° 396256 21.7 6500K 170° +17.7d
04:51:47 189.6° +10.4° - 60.8 -20.6° 396226 21.7 6500K 170° +17.7d
05:06:47 193.1° +10.0° - 64.4 -20.5° 396197 21.7 6500K 170° +17.8d
05:21:47 196.5° + 9.6° - 68.1 -20.5° 396167 21.7 6500K 170° +17.8d
05:36:47 199.9° + 9.0° - 71.8 -20.4° 396138 21.7 6500K 170° +17.8d
05:51:47 203.3° + 8.4° - 75.4 -20.4° 396108 21.7 6500K 170° +17.8d
06:06:47 206.7° + 7.6° - 79.1 -20.3° 396079 21.7 6500K 170° +17.8d
06:21:47 210.1° + 6.8° - 82.7 -20.3° 396049 21.7 6500K 170° +17.8d
06:36:47 213.4° + 5.8° - 86.4 -20.2° 396020 21.7 6500K 169° +17.8d
06:51:47 216.7° + 4.8° - 90.1 -20.2° 395990 21.7 6500K 169° +17.8d
07:06:47 219.9° + 3.6° - 93.7 -20.1° 395960 21.7 6500K 169° +17.8d
07:21:47 223.1° + 2.4° - 97.4 -20.1° 395931 21.7 6500K 169° +17.9d
07:36:47 226.3° + 1.1° - 101.0 -20.0° 395901 21.7 6500K 169° +17.9d
=============== Moon ================== 20. juli 2008 =======================
00:51:47 124.1° + 0.3° - 350.9 -16.7° 393782 21.2 5800K 160° +18.6d
01:06:47 127.2° + 1.9° - 354.5 -16.6° 393750 21.2 5800K 160° +18.6d
01:21:47 130.4° + 3.4° - 358.2 -16.6° 393718 21.2 5800K 160° +18.6d
01:36:47 133.6° + 4.9° - 1.8 -16.5° 393687 21.1 5800K 160° +18.6d
01:51:47 136.8° + 6.3° - 5.5 -16.5° 393655 21.1 5800K 160° +18.6d
02:06:47 140.1° + 7.6° - 9.2 -16.4° 393623 21.1 5800K 160° +18.6d
02:21:47 143.4° + 8.8° - 12.8 -16.4° 393591 21.1 5800K 160° +18.6d
02:36:47 146.8° + 9.9° - 16.5 -16.3° 393559 21.1 5800K 160° +18.7d
02:51:47 150.2° +11.0° - 20.1 -16.3° 393527 21.1 5800K 159° +18.7d
03:06:47 153.6° +11.9° - 23.8 -16.2° 393495 21.1 5800K 159° +18.7d
03:21:47 157.1° +12.8° - 27.5 -16.2° 393463 21.1 5800K 159° +18.7d
03:36:47 160.7° +13.5° - 31.1 -16.1° 393431 21.1 5800K 159° +18.7d
03:51:47 164.2° +14.1° - 34.8 -16.1° 393399 21.1 5800K 159° +18.7d
04:06:47 167.8° +14.6° - 38.5 -16.0° 393367 21.1 5800K 159° +18.7d
04:21:47 171.5° +15.0° - 42.1 -16.0° 393335 21.1 5800K 159° +18.7d
04:36:47 175.1° +15.3° - 45.8 -15.9° 393303 21.1 5800K 159° +18.7d
04:51:47 178.8° +15.5° - 49.5 -15.9° 393271 21.1 5800K 159° +18.7d
05:06:47 182.4° +15.5° - 53.1 -15.8° 393239 21.1 5800K 159° +18.8d
05:21:47 186.1° +15.4° - 56.8 -15.8° 393207 21.1 5800K 159° +18.8d
05:36:47 189.7° +15.2° - 60.5 -15.7° 393174 21.1 5800K 158° +18.8d
05:51:47 193.4° +14.9° - 64.1 -15.7° 393142 21.1 5800K 158° +18.8d
06:06:47 197.0° +14.4° - 67.8 -15.6° 393110 21.1 5800K 158° +18.8d
06:21:47 200.6° +13.9° - 71.5 -15.6° 393077 21.1 5800K 158° +18.8d
06:36:47 204.2° +13.2° - 75.1 -15.5° 393045 21.1 5800K 158° +18.8d
06:51:47 207.7° +12.4° - 78.8 -15.5° 393013 20.9 5500K 158° +18.8d
07:06:47 211.2° +11.5° - 82.5 -15.4° 392980 20.9 5500K 158° +18.8d
07:21:47 214.6° +10.5° - 86.1 -15.3° 392948 20.9 5500K 158° +18.9d
07:36:47 218.1° + 9.5° - 89.8 -15.3° 392915 20.9 5500K 158° +18.9d
07:51:47 221.4° + 8.3° - 93.4 -15.2° 392883 20.9 5500K 158° +18.9d
08:06:47 224.8° + 7.1° - 97.1 -15.2° 392850 20.9 5500K 157° +18.9d
08:21:47 228.1° + 5.7° - 100.8 -15.1° 392818 20.9 5500K 157° +18.9d
08:36:47 231.3° + 4.3° - 104.4 -15.0° 392785 20.9 5500K 157° +18.9d
08:51:47 234.5° + 2.9° - 108.1 -15.0° 392753 20.9 5500K 157° +18.9d
09:06:47 237.7° + 1.4° - 111.7 -14.9° 392720 20.9 5500K 157° +18.9d
=============== Moon ================== 21. juli 2008 =======================
01:06:47 115.4° + 1.8° - 343.6 -11.3° 390570 21.0 5800K 148° +19.6d
01:21:47 118.5° + 3.5° - 347.3 -11.3° 390536 21.0 5800K 148° +19.6d
01:36:47 121.7° + 5.2° - 350.9 -11.2° 390501 21.0 5800K 148° +19.6d
01:51:47 124.9° + 6.8° - 354.6 -11.2° 390466 21.0 5800K 148° +19.6d
02:06:47 128.1° + 8.4° - 358.2 -11.1° 390432 21.0 5800K 148° +19.6d
02:21:47 131.4° + 9.9° - 1.9 -11.1° 390397 21.0 5800K 148° +19.6d
02:36:47 134.8° +11.4° - 5.6 -11.0° 390362 21.0 5800K 148° +19.7d
02:51:47 138.2° +12.7° - 9.2 -11.0° 390328 21.0 5800K 148° +19.7d
03:06:47 141.6° +14.0° - 12.9 -10.9° 390293 21.0 5800K 148° +19.7d
03:21:47 145.1° +15.2° - 16.5 -10.8° 390258 20.9 5800K 148° +19.7d
03:36:47 148.7° +16.3° - 20.2 -10.8° 390223 20.9 5800K 147° +19.7d
03:51:47 152.3° +17.3° - 23.9 -10.7° 390189 20.9 5800K 147° +19.7d
04:06:47 156.0° +18.2° - 27.5 -10.7° 390154 20.9 5800K 147° +19.7d
04:21:47 159.7° +18.9° - 31.2 -10.6° 390119 20.9 5800K 147° +19.7d
04:36:47 163.5° +19.6° - 34.9 -10.6° 390084 20.9 5800K 147° +19.7d
04:51:47 167.3° +20.1° - 38.6 -10.5° 390049 20.9 5800K 147° +19.7d
05:06:47 171.1° +20.6° - 42.2 -10.4° 390014 20.9 5800K 147° +19.8d
05:21:47 174.9° +20.9° - 45.9 -10.4° 389979 20.9 5800K 147° +19.8d
05:36:47 178.8° +21.0° - 49.6 -10.3° 389944 20.9 5800K 147° +19.8d
05:51:47 182.7° +21.1° - 53.2 -10.3° 389909 20.9 5800K 147° +19.8d
06:06:47 186.5° +21.0° - 56.9 -10.2° 389874 20.9 5800K 146° +19.8d
06:21:47 190.4° +20.7° - 60.6 -10.2° 389838 20.9 5800K 146° +19.8d
06:36:47 194.2° +20.4° - 64.2 -10.1° 389803 20.9 5800K 146° +19.8d
06:51:47 198.0° +19.9° - 67.9 -10.0° 389768 20.9 5800K 146° +19.8d
07:06:47 201.8° +19.3° - 71.6 -10.0° 389733 20.9 5800K 146° +19.8d
07:21:47 205.6° +18.6° - 75.2 - 9.9° 389698 20.9 5800K 146° +19.9d
07:36:47 209.3° +17.8° - 78.9 - 9.8° 389662 20.9 5800K 146° +19.9d
07:51:47 212.9° +16.9° - 82.6 - 9.8° 389627 20.9 5800K 146° +19.9d
08:06:47 216.6° +15.9° - 86.2 - 9.7° 389592 20.9 5800K 146° +19.9d
08:21:47 220.1° +14.7° - 89.9 - 9.7° 389556 20.9 5800K 146° +19.9d
08:36:47 223.6° +13.5° - 93.6 - 9.6° 389521 20.9 5800K 146° +19.9d
08:51:47 227.1° +12.2° - 97.2 - 9.5° 389485 20.9 5800K 145° +19.9d
09:06:47 230.5° +10.8° - 100.9 - 9.5° 389450 20.9 5800K 145° +19.9d
09:21:47 233.8° + 9.4° - 104.6 - 9.4° 389414 20.9 5800K 145° +19.9d
09:36:47 237.2° + 7.9° - 108.2 - 9.3° 389379 20.9 5800K 145° +19.9d
09:51:47 240.4° + 6.3° - 111.9 - 9.3° 389343 20.9 5800K 145° +20.0d
10:06:47 243.7° + 4.7° - 115.5 - 9.2° 389308 21.0 5800K 145° +20.0d
10:21:47 246.9° + 3.0° - 119.2 - 9.1° 389272 21.0 5800K 145° +20.0d
10:36:47 250.0° + 1.3° - 122.8 - 9.1° 389237 21.0 5800K 145° +20.0d
=============== Moon ================== 22. juli 2008 =======================
01:06:47 103.3° + 1.6° - 333.0 - 5.5° 387120 20.9 5800K 137° +20.6d
01:21:47 106.4° + 3.5° - 336.6 - 5.5° 387083 20.9 5800K 136° +20.6d
01:36:47 109.6° + 5.3° - 340.3 - 5.4° 387046 20.8 5800K 136° +20.6d
01:51:47 112.7° + 7.1° - 343.9 - 5.4° 387008 20.8 5800K 136° +20.6d
02:06:47 115.9° + 8.9° - 347.6 - 5.3° 386971 20.8 5800K 136° +20.6d
02:21:47 119.2° +10.7° - 351.2 - 5.2° 386934 20.8 5800K 136° +20.6d
02:36:47 122.5° +12.4° - 354.9 - 5.2° 386896 20.8 5800K 136° +20.7d
02:51:47 125.8° +14.0° - 358.5 - 5.1° 386859 20.8 5800K 136° +20.7d
03:06:47 129.2° +15.6° - 2.2 - 5.1° 386821 20.8 5800K 136° +20.7d
03:21:47 132.7° +17.0° - 5.9 - 5.0° 386784 20.8 5800K 136° +20.7d
03:36:47 136.2° +18.5° - 9.5 - 4.9° 386746 20.8 5800K 135° +20.7d
03:51:47 139.8° +19.8° - 13.2 - 4.9° 386709 21.0 6100K 135° +20.7d
04:06:47 143.5° +21.0° - 16.8 - 4.8° 386671 21.0 6100K 135° +20.7d
04:21:47 147.2° +22.2° - 20.5 - 4.7° 386633 21.0 6100K 135° +20.7d
04:36:47 151.0° +23.2° - 24.2 - 4.7° 386596 21.0 6100K 135° +20.7d
04:51:47 154.9° +24.1° - 27.8 - 4.6° 386558 20.9 6100K 135° +20.7d
05:06:47 158.8° +25.0° - 31.5 - 4.6° 386520 20.9 6100K 135° +20.8d
05:21:47 162.8° +25.6° - 35.2 - 4.5° 386482 20.9 6000K 135° +20.8d
05:36:47 166.8° +26.2° - 38.9 - 4.4° 386445 20.9 6000K 135° +20.8d
05:51:47 170.9° +26.6° - 42.5 - 4.4° 386407 20.9 6000K 135° +20.8d
06:06:47 175.0° +26.9° - 46.2 - 4.3° 386369 20.9 6000K 134° +20.8d
06:21:47 179.1° +27.1° - 49.9 - 4.2° 386331 20.9 6000K 134° +20.8d
06:36:47 183.2° +27.1° - 53.5 - 4.2° 386293 20.9 6000K 134° +20.8d
06:51:47 187.3° +27.0° - 57.2 - 4.1° 386256 20.9 6000K 134° +20.8d
07:06:47 191.4° +26.8° - 60.9 - 4.1° 386218 20.9 6000K 134° +20.8d
07:21:47 195.5° +26.4° - 64.6 - 4.0° 386180 20.9 6000K 134° +20.9d
07:36:47 199.5° +25.9° - 68.2 - 3.9° 386142 20.9 6000K 134° +20.9d
07:51:47 203.5° +25.2° - 71.9 - 3.9° 386104 20.9 6000K 134° +20.9d
08:06:47 207.4° +24.5° - 75.6 - 3.8° 386066 20.9 6000K 134° +20.9d
08:21:47 211.3° +23.6° - 79.2 - 3.7° 386028 20.9 6000K 134° +20.9d
08:36:47 215.2° +22.6° - 82.9 - 3.7° 385990 20.9 6000K 133° +20.9d
08:51:47 218.9° +21.5° - 86.6 - 3.6° 385951 20.9 6000K 133° +20.9d
09:06:47 222.6° +20.4° - 90.2 - 3.5° 385913 20.9 6000K 133° +20.9d
09:21:47 226.3° +19.1° - 93.9 - 3.5° 385875 20.9 6000K 133° +20.9d
09:36:47 229.9° +17.7° - 97.6 - 3.4° 385837 20.9 6000K 133° +20.9d
09:51:47 233.4° +16.3° - 101.2 - 3.3° 385799 20.9 6000K 133° +21.0d
10:06:47 236.8° +14.8° - 104.9 - 3.3° 385761 20.9 6000K 133° +21.0d
10:21:47 240.2° +13.2° - 108.5 - 3.2° 385722 20.9 6000K 133° +21.0d
10:36:47 243.6° +11.6° - 112.2 - 3.2° 385684 20.9 6000K 133° +21.0d
10:51:47 246.9° + 9.9° - 115.8 - 3.1° 385646 20.9 6000K 133° +21.0d
11:06:47 250.1° + 8.2° - 119.5 - 3.0° 385607 20.9 6000K 132° +21.0d
11:21:47 253.4° + 6.5° - 123.1 - 3.0° 385569 20.9 6000K 132° +21.0d
11:36:47 256.6° + 4.7° - 126.8 - 2.9° 385531 20.9 6000K 132° +21.0d
11:51:47 259.7° + 2.9° - 130.4 - 2.8° 385492 20.9 6000K 132° +21.0d
12:06:47 262.9° + 1.1° - 134.1 - 2.8° 385454 20.9 6000K 132° +21.0d
=============== Moon ================== 23. juli 2008 =======================
01:06:47 91.1° + 1.3° - 322.3 + 0.6° 383425 20.8 6000K 124° +21.6d
01:21:47 94.2° + 3.3° - 326.0 + 0.6° 383386 20.8 6000K 124° +21.6d
01:36:47 97.3° + 5.2° - 329.6 + 0.7° 383346 20.8 6000K 124° +21.6d
01:51:47 100.4° + 7.1° - 333.2 + 0.7° 383307 20.8 6000K 124° +21.6d
02:06:47 103.5° + 9.0° - 336.9 + 0.8° 383267 20.8 6000K 124° +21.6d
02:21:47 106.7° +10.9° - 340.5 + 0.9° 383227 20.8 6000K 124° +21.6d
02:36:47 109.9° +12.8° - 344.2 + 0.9° 383188 20.8 6000K 124° +21.7d
02:51:47 113.1° +14.6° - 347.8 + 1.0° 383148 20.8 6000K 124° +21.7d
03:06:47 116.4° +16.4° - 351.5 + 1.1° 383108 20.8 6000K 123° +21.7d
03:21:47 119.8° +18.1° - 355.1 + 1.1° 383069 20.7 6000K 123° +21.7d
03:36:47 123.2° +19.8° - 358.8 + 1.2° 383029 20.7 6000K 123° +21.7d
03:51:47 126.8° +21.4° - 2.5 + 1.3° 382989 20.7 6000K 123° +21.7d
04:06:47 130.3° +23.0° - 6.1 + 1.3° 382950 20.7 6000K 123° +21.7d
04:21:47 134.0° +24.4° - 9.8 + 1.4° 382910 20.7 6000K 123° +21.7d
04:36:47 137.7° +25.8° - 13.4 + 1.5° 382870 20.7 6000K 123° +21.7d
04:51:47 141.6° +27.1° - 17.1 + 1.5° 382830 20.7 6000K 123° +21.7d
05:06:47 145.5° +28.3° - 20.8 + 1.6° 382790 20.7 6000K 123° +21.8d
05:21:47 149.5° +29.4° - 24.4 + 1.7° 382751 20.7 6000K 122° +21.8d
05:36:47 153.6° +30.4° - 28.1 + 1.7° 382711 20.7 6000K 122° +21.8d
05:51:47 157.7° +31.2° - 31.8 + 1.8° 382671 20.7 6000K 122° +21.8d
06:06:47 161.9° +32.0° - 35.4 + 1.8° 382631 20.7 6000K 122° +21.8d
06:21:47 166.2° +32.5° - 39.1 + 1.9° 382591 20.7 6000K 122° +21.8d
06:36:47 170.5° +33.0° - 42.8 + 2.0° 382551 20.7 6000K 122° +21.8d
06:51:47 174.9° +33.3° - 46.4 + 2.0° 382511 20.7 6000K 122° +21.8d
07:06:47 179.3° +33.5° - 50.1 + 2.1° 382471 20.7 6000K 122° +21.8d
07:21:47 183.7° +33.5° E 53.8 + 2.2° 382431 20.6 6000K 122° +21.9d
07:36:47 188.1° +33.3° E 57.5 + 2.2° 382391 20.6 6000K 122° +21.9d
07:51:47 192.4° +33.1° E 61.1 + 2.3° 382351 20.6 6000K 121° +21.9d
08:06:47 196.8° +32.6° E 64.8 + 2.4° 382311 20.6 6000K 121° +21.9d
08:21:47 201.1° +32.1° E 68.5 + 2.4° 382271 20.6 6000K 121° +21.9d
08:36:47 205.3° +31.4° E 72.1 + 2.5° 382231 20.6 6000K 121° +21.9d
08:51:47 209.5° +30.6° E 75.8 + 2.6° 382191 20.6 6000K 121° +21.9d
09:06:47 213.6° +29.7° E 79.5 + 2.6° 382151 20.7 6000K 121° +21.9d
09:21:47 217.6° +28.6° E 83.1 + 2.7° 382111 20.7 6000K 121° +21.9d
09:36:47 221.5° +27.5° N 86.8 + 2.7° 382071 20.7 6000K 121° +21.9d
09:51:47 225.4° +26.2° N 90.4 + 2.8° 382031 20.7 6000K 121° +22.0d
10:06:47 229.1° +24.9° N 94.1 + 2.9° 381991 20.7 6000K 121° +22.0d
10:21:47 232.8° +23.4° N 97.8 + 2.9° 381951 20.7 6000K 120° +22.0d
10:36:47 236.4° +21.9° N 101.4 + 3.0° 381911 20.7 6000K 120° +22.0d
10:51:47 240.0° +20.4° N 105.1 + 3.1° 381870 20.7 6000K 120° +22.0d
11:06:47 243.5° +18.8° N 108.7 + 3.1° 381830 20.7 6000K 120° +22.0d
11:21:47 246.9° +17.1° N 112.4 + 3.2° 381790 20.7 6000K 120° +22.0d
11:36:47 250.2° +15.4° N 116.0 + 3.3° 381750 20.7 6000K 120° +22.0d
11:51:47 253.5° +13.6° N 119.7 + 3.3° 381710 20.7 6000K 120° +22.0d
12:06:47 256.8° +11.9° N 123.3 + 3.4° 381669 20.7 6000K 120° +22.0d
12:21:47 260.0° +10.0° N 127.0 + 3.4° 381629 20.8 6100K 120° +22.1d
12:36:47 263.2° + 8.2° N 130.6 + 3.5° 381589 20.8 6100K 119° +22.1d
12:51:47 266.4° + 6.4° N 134.3 + 3.6° 381549 20.8 6100K 119° +22.1d
13:06:47 269.5° + 4.6° N 137.9 + 3.6° 381508 20.8 6100K 119° +22.1d
13:21:47 272.6° + 2.7° A 141.5 + 3.7° 381468 20.8 6100K 119° +22.1d
13:36:47 275.8° + 0.9° A 145.2 + 3.7° 381428 20.8 6100K 119° +22.1d